Dear setlockers: I found a thing!
Hey guys?  Has anybody noticed one of our twitter promo photos for "The Sign of Three" is actually, secretly, sinister as hell ?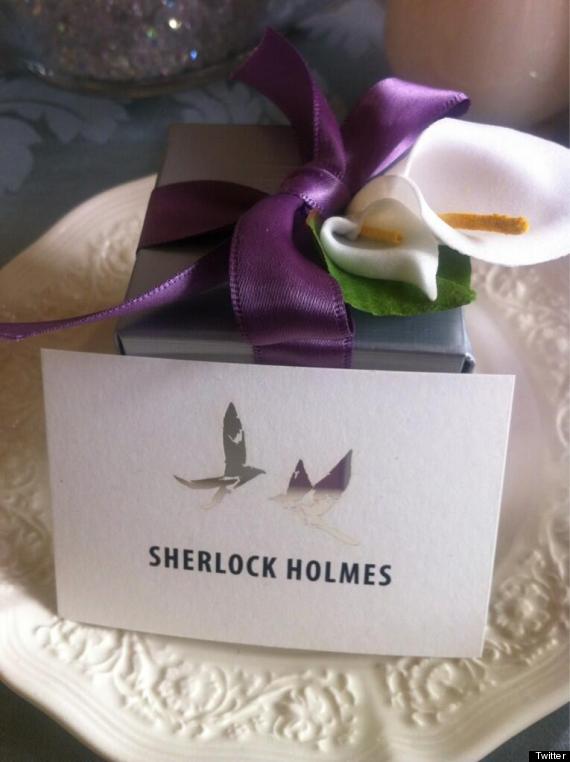 Oh look!  Birds on the card!  How nice!  Only, wait, where have we seen a lot of birds before recently?  Oops!
Oh dear.   Jim's personal seal in The Reichenbach Fall is this image of a "thieving magpie", which is seen on the envelope he sends the fairy tale book in and in the envelope full of breadcrumbs.  It looks a lot like the bird on the above card.  They're not identical, but please note that from the lighter patches on the wings, the shape of the head, the long, slightly curved beaks and (especially) the long tail, a very good case could be made for the birds on the card being magpies.  They're sure as hell not doves.
In fact, there are also bird motifs all over The Reichenbach Fall: in the IOU graffiti seen painted in the background of scenes (which has large feathery wings) and in the soundtrack ("The Thieving Magpie" by Gioachino Rossini).  In case you're wondering why Jim's symbol is a magpie, it's partly because they're traditionally bad luck and famously known for stealing things, but it gets better.  What was it again that prevented Hansel and Gretel from following their breadcrumb trail home after they narrowly avoided being murdered in the woods?  Birds.   And now Sherlock is now trying to come home after playing dead for three years and BAM.  Birds. 
(Follow jump for the part of this thought that includes proper spoilers, if inclined.)